Butcher Block Countertops
Benefits of Butcher Block Countertops
Butcher Block offers Natural Beauty, Durability, and Easy Maintenance.
By far the greatest advantage of butcher block countertops, besides their good looks and convenience in food preparation, is their ability to be refinished. Even sealed butcher block countertops can be sanded down and refinished, giving homeowners a like-new countertop at virtually no expense.
Unfinished or oil-finished butcher block countertops are perfect for cutting and chopping. The raw wood is rubbed with oil to lock in moisture and protect the wood, and any stains or scratches resulting from food prep can be removed quickly and easily with a sanding block. Simply sand the stain away, rub in a dab of mineral oil, and the countertop looks like new.
Butcher block countertops are an excellent choice for serious chefs, owners of period homes, and anyone who wants to add the natural warmth and beauty of wood to their kitchen.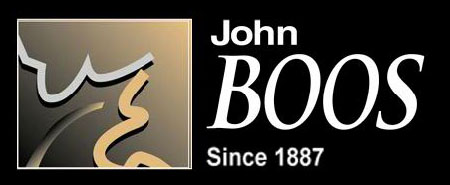 John Boos & Co. is the leading manufacturer of butcher block  products in the U.S.A. JB&C is renowned for their famous Boos Blocks® and Cutting Boards. JB&C products are "Made in the U.S.A" of solid and quality North American hardwoods, and are the finest in quality, workmanship and design.